COMSTOCK FAMILY - ADA COMSTOCK

A champion of higher education for women and the third president of Radcliffe College, Ada Louise Comstock was born on December 11, 1876, to S.G. [Solomon Gilman] Comstock, a lawyer, and Sarah (Ball) Comstock, a former schoolteacher. She was raised in Moorhead and graduated from Moorhead High School.


Her father was a lawyer, state legislator, and U.S. Representative (1889-1891), and, as regent of the University of Minnesota, he assisted with the founding of the Moorhead Normal School. Her mother was active in founding the women's club and a strong supporter of the public library in Moorhead.


Comstock grew up in a close knit family with her brother and sister, George Madison Comstock and Jessie Comstock. She remained very close to her father until his death in 1933. An avid student, she graduated from high school at the age of fifteen. From 1892 to 1894 Comstock attended the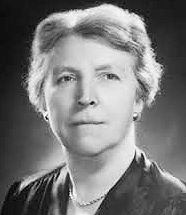 University of Minnesota, before transferring to Smith College where she received her B.L. in 1897. She completed her teacher training at Moorhead Normal School in 1898. She then attended Columbia University where she earned an A.M. in English, History, and Education. In 1900 she accepted an assistantship at the University of Minnesota in the department of rhetoric and oratory. During her time at the University of Minnesota she befriended Wallace Notestein, a professor of history who later taught at Yale University. Comstock and Notestein maintained their correspondence for forty years; they married in June 1943, after Comstock retired from Radcliffe College. The Notesteins traveled to England frequently due to Notestein's work on British literature and social history. They lived in New Haven, Connecticut where Ada died on December 12, 1973 and Wallace died in 1969.


Solomon and Sarah are buried at Prairie Home Cemetery in Moorhead.

Ada Biography
Ada Biography
Solomon Biography

Note: This writer has been unable to find a direct connection to the old Comstock Hotel in Moorhead, but their home in South Moorhead is currently a tourist attraction.