---
GEORGE ISHAM WATERMAN

George was born about 1835 in Providence,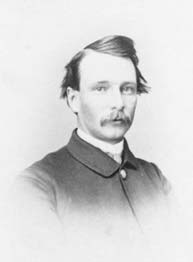 Providence County, Rhode Island. His profession was a lawyer. On 30 November 1862 he joined Company F, 51st Regiment of the Illinois Infantry as a 1st Lieutenant, later promoted to 2nd Lieutenant and Captain. He was injured during the Battle at Spring Hill on 29 November 1864 in Spring Hill, Tennessee. He was disability discharged on 15 May 1865. George started drawing his Civil War Pension on 19 May 1884. He died on 13 September 1884 and is buried in the Hawley Cemetery.
Burial, Tombstone Photo. There is an extensive biography of George at this website.
Click on Photo for Larger View
---
E. BURGESS WATTS

Burgess was born 17 June 1841 in Virginia. He enlisted as a Private on 14 August 1862 in Company C, 90th Ohio Regiment. He was promoted to Full Corporal 28 September 1862 and 1st Sergeant 1 June 1865. He was discharged 13 June 1865 at Camp Harber, Tennessee. In the 1890 Veterans Schedule he is living in Glyndon. In August he started drawing his pension on 6 August 1904 and dies 13 December 1904 in Ohio. Burgess is buried in Ohio. Burial, More Bio Information.
---
HAROLD H. WEISS

Harold was born on 20 December 1907 in Averill to George and Johanna Weiss. Their children included; John (1903), Herman (1905), George (1909), Harvey (1911), Oliver (1912), Roy (1914). The family lived in Spring Praire and Moorhead before Harold joined the U. S. Army. Harold's parents divorced and Johanna later married Oscar Jacobson.


Harold was a Private in the 22nd Engineer Battalion, 5th Armored Division when he died of fatal battle injuries on 25 September 1944.


Burial, Tombstone Photo, Links to Some Family Members
---
HERMAN G. WENDLANDT

From History of Clay and Norman Counties Minnesota Their People, Industries and Institutions:


"Herman G. Wendlandt, well-known merchant of Sabin, in Clay county, and for years postmaster of that village, also formerly and for years justice of the peace in and for Elmwood township, is a native son of Minnesota and has lived in this state all his life. He was born on a pioneer farm not far from St. Cloud, in Stearns county, May 16, 1869, son of Fred and Ernestine (Schultz) Wendlandt, natives of Germany, who were married in Stearns county and there spent their last days. Fred Wendlandt was born in 1844 and was eleven years of age when his parents, Christian and Rebecca Wendlandt, left Germany in 1855 and came to the United States with their family, settling in Wisconsin, where they remained until 1863, in which year they came over into Minnesota and settled in Stearns county, where they spent the remainder of their lives. Christian Wendlandt had served as a soldier in the army of his native country and was in the army at the time Poland took up arms against Germany, but did not participate in any active engagements. Fred Wendlandt was under twenty years of age when he came to Minnesota with his parents from Wisconsin and in time he homesteaded a tract of land in Stearns county and after his marriage in that county established his home there. His wife, Ernestine Schultz, was horn in 1845 and was eighteen years of age when she came to this country. She was a daughter of Gottfried Schultz and wife, the latter of whom was a Moede. Her mother died in her native land her father later married Wilhelmina Ernst and in 1863 left Germany with his family, and after spending a year in Canada came to Minnesota and became a homesteader in Stearns county, where he spent the rest of his life, living there to the age of ninety-one years. His father was a soldier in the Napoleonic Wars and carried a hullet in his knee to his grave. Fred Wendlandt hecame a substantial farmer of Stearns county and a man of influence in his community. He died there on September 12, 1916, and his widow survived him a little less than a year, her death occurring on February 5, 1917. They were the parents of nine children, of whom the subject of this sketch was the first-born, the others being Rebecca, Emelia, Augusta, John, Louisa, Mathilda, Lena and William.


Reared on the home farm in the vicinity of St. Cloud, H. G. Wendlandt received his early schooling in the schools of St. Cloud and was later graduated from the State Normal school there, after which he was engaged in teaching school for three years, in the meantime becoming acquainted with commercial forms and the mercantile business, and remained there until 1899, when he came up into the Red River country and opened a general store at Sabin, in Clay county, where he ever since has been engaged in business, one of the best-known business men in that part of the county. In December of that same year Mr. Wendlandt was commissioned postmaster of Sabin and has ever since occupied that position. From the beginning of his residence in Clay county Mr. Wendlandt has taken an earnest interest in local political affairs, served for some time as a member of county Republican central committee and for years served as justice of the peace in and for his home township.


In 1900, the year after he became established in business at Sabin, H. G. Wendlandt was united in marriage there to Minnie Schroeder, daughter of Frank Schroeder and wife, pioneers of the Sabin neighborhood, and to this union three children have been born. Fred, Erna and Hubert. The Wendlandts are members of the Lutheran church and take a proper interest in church work, as well as in the general good works and social activities of their home commnnity."


Burial, Tombstone Picture, Family Links.
---
RANDOLPH MONSON WEUM

From History of Clay and Norman Counties Minnesota Their People, Industries and Institutions:


"Randolph M. Weum, a successful merchant at Georgetown, Clay county, and postmaster of that village, was born in Norway. March 27, 1879. He is a son of Mons V. and Johanna ( Landgaad ) Weum, natives of Norway, where they lived and died. They were parents of six children, namely; Ellen, Edward, Mikel, John, Randolph M. and Jennie.


Randolph M. Weum grew to manhood in Norway and there he received a common-school education. He immigrated to America in 1900 and located in Gardener, Cass county, North Dakota, just across the Red River of the North from Clay county, Minnesota, and there he worked out as a farm hand for two years, in the crop seasons. During the winter time he attended Concordia College, at Moorhead. In 1902 he came to Georgetown and began clerking in the general store of M. T. Weum and S. S. Dalen proving to be an alert, wide-awake, faithful and reliable employee. He continued as a clerk, saving his wages and mastering the various ins and outs of the general-merchandising business until 1909, when he purchased a third interest in the business and has since devoted his attention to the building up of the store, which is one of the well-known and popular mercantile establishments of Holy Cross township. He is the only member of the firm living at Georgetown. A large and carefully selected stock of goods is carried, including everything used by the farmers and citizens of Georgetown. The firm name is Weum, Dalen & Company.


Mr. Weum has been postmaster at Georgetown for the past nine years and has given entire satisfaction in this capacity to both the people of his community and the postoffice department, being prompt, faithful and painstaking. He is a member of the Norwegian Lutheran church."


Randolph married Catherine B. Wambach on 17 January 1920 on Clay County. Children included Irene (1921), Randolph, Maxine, and Lloyd.


Randolph died on 21 April 1958.Burial.
---
GILMAN W. WHITCOMB

Extensive Biography on Gilman (Click through index for his name). It does not include (April 2015) his death on 23 December 1923 in Williams County North Dakota but his residence is noted as being in McKenzie County, North Dakota.
---
ALMOND WHITE

Almond was born 18 June 1844. He enlisted from Appleton, Wisconsin into Company E 40th Wisconsin Inventory as a Sergeant. He mustered out on 16 September 1864 in Milwaukee, Wisconsin. In the 1890 Veterans Schedule he is living in Moorhead. There is a biography of him posted on his Find A Grave Memorial. He died on 14 August 1930 in France and is buried there. Burial, Portrait, Bio Information.
---
ANTONE WILLIAMS

Antone was born in February 1836 in Norway. He enlisted in the U. S. Navy on 7 February 1865 in Philadelphia, Pennsylvania and was a Fireman 1st Class. He was mustered out on 12 February 1867 in Washington, D. C. Antone lived in Barnsville in 1890 and 1900. He died on 6 April 1915 at the Wisconsin National Home for Disabled Volunteer Soldiers in Milwaukee and is buried there in Wood National Cemetery. Burial, Tombstone Picture.
---
DR. ALONZO WILSON

Alonzo was born 29 September 1834 in Skonig, Sweden and died in Moorhead on 8 December 1932. At this site there is an extensive biography on Alonza along with a portrait.
---
JAMES M. WILSON

James was born in 1843 in Maine. He enlisted as a Private on 16 October in Company D, 1st Minnesota Mounted Rangers. He was discharged 4 November 1863. On 2 March 1876 he was appointed Postmaster General for Georgetown. In the 1880 Federal Census and the 1890 Veterans Schedule he is living in Georgetown. His wife is Ida, a daughter Emily and two sons Gowan and James. James died on 11 June 1891 and is buried in Wild Rose Cemetery in Georgetown. Burial, Tombstone Picture.
---
OLE ANDREAS WINDSETH

From the Compendium of History and Biography of Northern Minnesota:


"Ole Windseth, the present capable and popular postmaster at Felton, Clay county, was born in Trondhjen, Norway, in 1865, and is the son of a farmer, who lived and died in that conntry.


Ole Windseth is the youngest member of a family of six children, and was reared and educated in his native land. When he was fifteen years of age he was confirmed in the church, and began life for himself as an apprentice at the carpenter trade. For three years he worked in this line, after he had become a journeyman. About this time he determined to seek an opportunity in the new land of hope and endeavor, whither so many of his countrymen had already gone, and came to Minneapolis by way of New York. For about a vear he worked mostly at Anoka. For some three years he was a carpenter in West Superior, Wisconsin.


In the fall of 1887, prior to his removal to West Superior, he was married at Anoka, to Miss Carrie Heen, a native of Norway, and an emigrant to the United States in 1885. To this union have come the following children: Ida; Arthur, who was born in Wisconsin; Eugenie; May, who is dead; all born in Minnesota, except as noted above.


In 1893 Mr. Windseth came to Felton, Minnesota, where he worked for two years. In 1895 he built the Hotel Arlington, in Felton, and was its landlord for two years, when he put up a building and opened a hardware store, which was the first in the town. It was at the corner of Fifth street and Atlantic avenue. His large and increasing trade demanded roomier quarters, and in 1899 he erected his present commodious store building, 60x90 feet. It is the largest store in the town, and in it he carries a fine stock of furniture, hardware and undertaking goods.


Mr, Windseth is the most prosperous and successful merchant in the place, and may well revert to the day when he arrived in this community without money, and was glad to be employed in the harvest field.


Mr. Windseth is a Republican, and was appointed postmaster in 1899, a position he is still holding, to the very general satisfaction of the community. Mr. Windseth is also interested in a grocery store, with a partner, A. T. Specht, who has immediate charge of the enterprise."


Ole died on 29 April 1920 in South Dakota. Burial. Carrie [Karen] died on 12 October 1922 in South Dakota. Burial.
---
WELLINGTON WINEGARDEN

Wellington was born 10 May 1845 in Canada. He enlisted as a Private in Company E, 116th New York Infantry on 12 August 1862 from Buffalo, New York. He was discharged on 5 September 1862. In 1890 he was living in Georgetown and in 1895 and 1905 he was living in Moorhead. He died on 29 June 1929 in Beltrami County and is buried in the Greenwood Cemetery in Bemidji. Burial, Tombstone Picture.
---
CASPER G. WOHLWEND

Casper was born about 1842. He enlisted as a Blacksmith on 21 October 1863 in Company L 2nd Wisconsin Cavalry and mustered out on 15 Novemer 1865 at Austin, Texas. Casper started receiving his pension on 13 August 1890. He died on 19 January 1934 and is buried in Barnesville. Burial, Tombstone Picture.
---
WILLIAM L. WOODRUFF

William was born about 1846 in Connecticut. He enlisted into the Civil War in May of 1861 and remained until the end of the war when he was a Captain. The Minnesota Grand Army of the Republic recorded him as living in Barnesville. In 1905 he is living in Barnesville as a minister.


---
WARREN WORKS

Warren's death record and tombstone shows his first name as Warren but earlier records show it as Wanen. Warren was born 22 Jul 1847. He enlisted on 22 May 1863 in New York as a Private in Company K 4th New York Heavy Artillary Regiment. He was discharged 26 September 1865. In the 1880 Federal Census he is in Glyndon and in the 1890 Veterans Schedule he is in Goose Prairie. In 1900 census he is in Hawley. He started drawing his pension on 1 April 1884 in Minnesota and his wife Della started receiving a widows pension 4 August 1920 in Washington. Warren died on 6 July 1920 in Washington and is buried in Tracyton Cemetery in Bremerton Washington. Burial, Tombstone Picture.
+++++++++++++++
The following is from History of Clay and Norman Counties, Minnesota, Volume II - Biographies (1918) in a biography of his brother Wright: ".... Warren, who came to Clay county among the early pioneers in 1873, took up a homestead in section 20, Cromwell township, which he later sold and bought a farm in Hawley township, operating the same until 1907, when he sold out and moved to the state of Washington, where he now resides...."
---
WRIGHT SILAS WORKS

Some records show Wright Silas and Silas Wright Works. He is the son of Joseph Tuncliff and Susan Sherntin [some records show Thornton] Works.


Wright enlisted at Ogdensburgh, New York on 24 September 1861 as a Private in Company B, New York 60th Infantry Regiment and released on 18 December 1863. He was wounded (lost right eye) in the Battle of Gettysburg. He was named postmaster of Muskoda on 23 December 1905. Wright married Maude Rudd Whaley, a widow, on 13 May 1907 in Moorhead. From her first marriage Maude had children, Maud, Ruth, Charles, Frank and Ray. Wright and Maude had one son, Wright, Jr. He started receiving his pension on 30 December 1864 and his wife started receiving a widow's pension on 3 July 1926. He was a Commander of Grand Old Army of the Republic. Wright died on 9 October 1925 in Hawley and is buried at Hawley Cemetery. Burial, Tombstone Picture, Links to Family.
Three Page Biography from History of Clay and Norman Counties, Minnesota, Volume II - Biographies (1918).